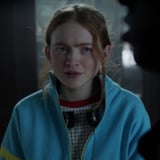 Stranger Things has released its third season, which means the world is already begging for details about what might go down in season four. Will we get answers about the mysterious "American"? Where is Joyce moving her kids? And will Eleven ever recover? Those mysteries will likely remain just that until the show returns with season four. But in the meantime, we're here to speculate right along with you.
Fortunately for all of us, the show's creators, Matt and Ross Duffer, recently sat down with Entertainment Weekly to spill some details about where the Netflix sci-fi hit is headed in the fourth season. "We don't want to write ourselves in a corner so we try to have these early discussions with the writers just to make sure that we're setting ourselves up to go in the right direction," Ross explained. "We don't know a lot, but we do know a lot of the big broad strokes."
So, what's in store for our favorite rag-tag team of Demogorgon- and Mind Flayer-hunting teens? Let's dive into what we know so far, from where the story will take place to the general feel and tone of the next batch of new episodes.
Season Four Will Feel "Very Different"
Even though the fourth season hasn't been officially confirmed, the Duffers know where they want the story to go from here. It doesn't sound like they've nailed down specifics just yet (at least not any that they're sharing publicly), but Ross told EW that the "broad strokes" are there:
"At the end of season two, we knew about Billy. We knew that the Russians were going to come in. We didn't know the mall and stuff, but again, we know these big broad strokes. That's sort of where we are in season four. We have the big broad strokes. It's just now about filling in those lines in the details. We're pretty excited about where it's potentially going to go. Again, like we said, it's going to feel very different than this season. But I think that's the right thing to do and I think it'll be exciting."
You got that? Season four will "feel very different" and "it'll be exciting." Sign us up!
The Plot Will Leave Hawkins Behind
Seasons one and two take place in and around Hawkins, Indiana, but season three deviated a bit from that theme by opening the show in a secret lab located in the snowy mountains of Russia. The final season three scene also transports us to Kamchatka in Russia at a ramshackle prison. Can we expect season four to expand the show's scope, too? Matt Duffer says yes, especially since Joyce Byers recently moved Will, Jonathan, and Eleven away from Hawkins.
"I think the biggest thing that's going to happen is it's going to open up a little bit, not necessarily in terms of scale, in terms of special effects, but open up in terms of allowing plotlines into areas outside of Hawkins," Matt explained.
On Sept. 25, during Netflix's first TUDUM live event, the Duffer Brothers released a new trailer for season four, which opened on a family from the late 1950s moving into their new home and living a seemingly normal life. Packed with ghosts and supernatural secrets from the past, Creel House quickly decides the family is no longer welcome. Flash forward to the present day and the Stranger Things crew are forced to confront the ghosts that linger within the walls of Creel House.
We'll Find Out Who "The American" Is, and What's Up With the Demogorgon
During the season three postcredits scene in Kamchatka, two guards are seen taking out a prisoner – "not the American," one of them says – and dragging him from his cell to a cage with the original Demogorgon inside. The season ends with the monster presumably chowing down on the prisoner.
"Assuming there's a season four, obviously the question of who that American is in that cell and then also what they're doing with the Demogorgon, is a tease," Ross said. "That's obviously going to play a huge role in a potential season four."
Considering how many streaming records Stranger Things broke with its third season premiere, Netflix would have to be insane not to renew. That means you have no reason to worry – it's a matter of when the show is coming back, not if.