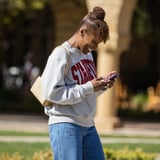 Image Source: HBO
Issa Rae is returning to her roots for the fifth and final season of Insecure – well, her college roots, that is. In the Oct. 24 premiere episode, we see Issa Dee (Rae), Molly Carter (Yvonne Orji), Kelli Prenny (Natasha Rothwell), and Tiffany DuBois (Amanda Seales) visit their alma mater, Stanford University, for their 10-year reunion, which is pretty cool given that Rae actually attended the college in real life.
"Coming to Stanford was the best decision I ever made."
The 36-year-old actress and producer graduated from Stanford in 2007 with a major in African and African American studies and a minor in political science. "Coming to Stanford was the best decision I ever made," Rae previously said in an interview with the university. "The advantage of being here at Stanford is that there's an opportunity to stand out and to find a community of like-minded people who create stuff together and work together and that's so important." Back in June, Rae had the honor of delivering the commencement address at the school's 130th graduation ceremony.
Rae took a moment to take a walk down memory lane as she live tweeted during the season five premiere of Insecure on Sunday, giving Stanford a shout-out for breaking its "no filming" rule for the show. In another tweet, Rae also revealed that she had a rap group with her girlfriends in college, writing, "Art imitating life." Talk about a full-circle moment!