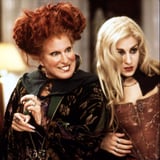 When we think of classic Halloween movies, Hocus Pocus immediately comes to mind. Even though the hilarious and quirky movie is 28 years old, many of us still love quoting it today.
In fact, Disney offered fans a Hocus Pocus sequel in 2018 when it released the Hocus Pocus & the All-New Sequel book, which takes places 25 years after the events in the 1993 movie. Even more exciting, Disney+ is releasing Hocus Pocus 2 in 2022 with the original stars. However, if you still want to relive all the magic, you're in luck, because you can watch the original as many times as you want right now.
Keep reading for all the places you can catch the beloved Halloween film.